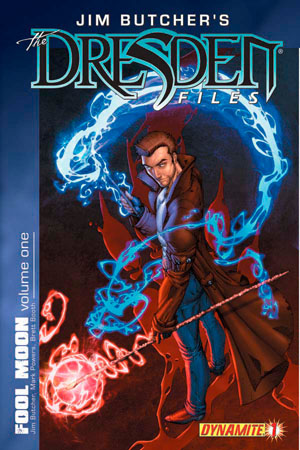 Price: $3.99
Shipping: Sold Out

SKU: C725130152800
Rating: TEEN+
Cover: Brett Booth
Writer: Jim Butcher, Mark Powers
Penciller/Inker: Chase Conley
Colorist: Mohan
Genre: MYSTERY, DETECTIVE, ACTION ADVENTURE
Publication Date: OCT 2010
Format: Comic Book
Page Count: 32
UPC: 725130152800
Harry Dresden`s life is a mess. His top client (and close friend), Lt. Karrin Murphy no longer trusts him. Chicago`s underworld and the cops alike think he`s mobster Johnny Marcone`s supernatural enforcer. And the enigmatic White Council continues to view him with suspicion. If all that weren`t enough, a pack of werewolves have unleashed a wave of terror on the Windy City. But as is always the case when it comes to the creatures of the Nevernever, there`s far more going on than meets the eye. Before it's all over, Harry will find himself caught between friends, enemies, and arcane forces bent on his destruction. Is it any wonder he can`t find a date?
Expanding on Book Two of Jim Butcher's NY Times bestselling saga, and featuring writer Mark Powers and artist Brett Booth, Fool Moon starts with a bang and doesn't let up!