JOHN MCCREA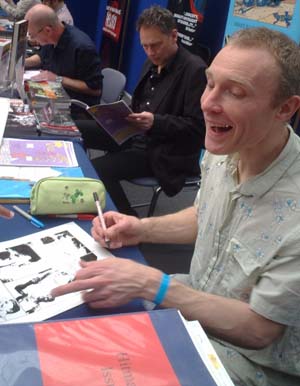 John McCrea is a comic book artist best known for his collaborations with writer Garth Ennis. His earliest work was influenced by John Byrne and Alan Davis. He broke into American comics in 1993, drawing Ennis's run on the DC Comic, The Demon, followed by its spin-off, Hitman, from 1996 to 2001, on which McCrea developed a versatile drawing style equally at home with goofy humor, action, and subtle characterization. Hitman #34 won the Eisner Award for best single issue in 1999. Since Hitman finished he has drawn a variety of characters for DC, Marvel, Dark Horse Comics, 2000 AD, and Dynamite's The Boys: Herogasm.
This article uses material from Wikipedia and is licensed under the GNU Free Documentation License.
All material is compiled from numerous sources and may not be accurate. Dynamite Entertainment cannot guarantee the validity of the content.