MOORE AND REPPION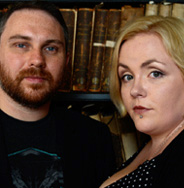 LEAH MOORE and JOHN REPPION are British comic book writers. They have co-writing credits on Wild Girl, a six part limited series for WildStorm. In 2006 they signed an initial twelve issue contract with Dynamite Entertainment, for whom they produced an intercompany crossover with artist Stephen Segovia, Witchblade: "Shades of Gray", co-published with Top Cow, among other works such as The Complete Dracula.
Leah and John currently write Damsels for Dynamite Entertainment!
This article uses material from Wikipedia and is licensed under the GNU Free Documentation License.
All material is compiled from numerous sources and may not be accurate. Dynamite Entertainment cannot guarantee the validity of the content.