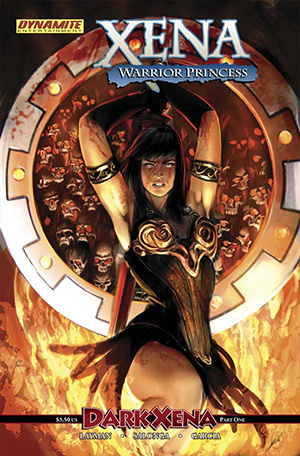 | | |
| --- | --- |
| | Available on Dynamite Digital > |
Price: $3.50
Shipping: Sold Out

SKU: C107129
WRITTEN BY JOHN LAYMAN, ART BY NOAH SALONGA; COLORED BY CHRIS GARCIA; COVER ART BY: AARON (INCREDIBLE HULK) LOPRESTI (25%) FABIANO (MARVEL ZOMBIES) NEVES (25%), PHOTO (25%) AND STJEPHAN SEJIC (25%)!

Writer John Layman returns and he's joined by artist Noah Salonga as they present the return of Dark Xena!

Taking place some time after the series finale of Xena: Warrior Princess and before the events of the "Contest of Pantheons." - featured in DYNAMITE'S XENA #'S 1-4 - "Dark Xena" finds Gabriele making a request of the Gods and learning that you must be very, very careful, what you wish for, and how you wish for it! Xena is Dead, Long Live Xena.. er.. Dark Xena that is, and by Dark, we mean just plain Nasty...Mean... and Evil...

Featuring a trio of awesome covers from Aaron (Incredible Hulk) Lopresti, Fabiano (MARVEL ZOMBIES VS. THE ARMY OF DARKNESS) and Stjepan (The Darkness) Sejic!

FANS! ASK YOUR LOCAL RETAILER ABOUT THE BLACK AND WHITE NEVES COVER!

FANS! ASK YOUR LOCAL RETAILER ABOUT THE NEGATIVE ART LOPRESTI COVER!