Dynamite In-Store: 9/25/2007
Dynamite | Tuesday, September 25, 2007 |
Comment on this Blog
DEAR DYNAMITE FAN,
Big week as we head into the Fall Season and October. We're still glowing from the incredible reception Jungle Girl has received (if you haven't picked up your copy, please do!) last week and this week we have another bunch of brand-new Dynamite releases! Also, for those that have been waiting for their favorite Dynamite trade or hardcover collection, the wait is almost over as the first wave of Dynamite collections will be hitting stores shortly! Here's what's coming: Red Sonja: She-Devil with a Sword Vol.2 Hardcover and TPB, Savage Red Sonja: Queen of the Frozen Wastes Hardcover and TPB, Xena Vol. 1 TPB, Army Of Darkness: Ash vs. the Monsters, Highlander Vol. 1 Hardcover and TPB, Classic Battlestar Galactica Vol. 1 TPB, Darkman vs. the Army Of Darkness Vol. 1 TPB and New Battlestar Galactica: ZarekTPB! Reserve your copies today!
As always, be sure to head over to the DYNAMITE MESSAGE BOARDS (http://www.dynamiteentertainment.com/boards/) and tell us what you think of our titles and interact with other "dynamite" fans!
And if you haven't already, be sure to check out our new weekly podcasts (which will be returning to their regular schedule on September 18!):
http://www.dynamiteentertainment.com/podcasts/dynamitepodcasts.xml
IN-STORES SEPTEMBER 26, 2007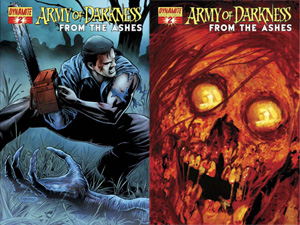 ARMY OF DARKNESS: FROM THE ASHES #2 By Kuhoric, Blanco and Nunes! DIAMOND ORDER CODE: JUL07 3413
http://www.dynamiteentertainment.com/htmlfiles/p-C107996.html
Dynamite proudly presents the return of Ash and the Army of Darkness! Continuing the undead action and excitement from issue #1 (following THE cross-over of 2007, Marvel Zombies vs. the Army of Darkness), Ash continues to explore the Deadite infested wastes of Detroit as he attempts to wrestle control of the world back from Evil Ash and his Deadite minions!
Featuring another stunning script by James Kuhoric, awesome art by Fernando Blanco and sure-to-be coveted covers by Arthur Suydam (75%) and a vicious variant chance cover by Fabiano (Marvel Zombies vs. the Army of Darkness) Neves, this is destined to be THE most talked about AOD series yet!
Ask Your Local Retailer About The Virgin Arthur Suydam Cover!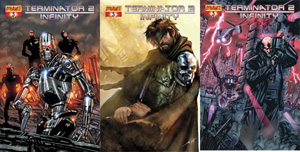 TERMINATOR 2: INFINITY #3 By Furman and Raynor!
http://www.dynamiteentertainment.com/htmlfiles/p-C107736.html
DIAMOND ORDER CODE: JUN07 3418
John and the survivors of the nuclear winter move out of Los Angeles, heading east and preparing to broadcast to the world at large. As they gather up more of the resistance, in the eyes of the survivors, John sees a glimmer of something wasn't there before... hope!
Dynamite's all new T2 comics are again brought to you by the first and last name of all things robotic - writer Simon Furman along with artist Nigel (BATTLESTAR Galactica) Raynor and cover artist Nigel Raynor, Stjepan (Darkness, Savage Tales) Sejic and Pat Lee!
Ask Your Local Retailer About The Virgin Sejic Incentive Cover!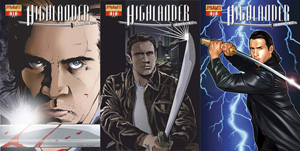 HIGHLANDER #11 By Jerwa, Rafael and Lopez! DIAMOND ORDER CODE: JUN07 3416
http://www.dynamiteentertainment.com/htmlfiles/p-C107735.html
The most unexpected Highlander story begins here! Writer Brandon Jerwa is counting down to issue 12 as the first year of Highlander stories races towards a dark and startling conclusion!
Duncan has been captured and taken to an Immortal "fight club" where he faces a rogue Watcher and the mysterious group known only as "the Eye"! As Duncan unravels the mystery, will he also unravel the very world by triggering a nuclear disaster destined to end the world?
Featuring four stunning covers from such diverse talents as Michael Avon Oeming, Fabio Laguna, Jean Dias, and Alecia Rodriguez!
Ask Your Local Retailer About The Oeming Black And White!
ASK DYNAMITE:
Each week, or as available, we'll pull a letter and answer it hear and in our companion podcast, send all letters to: letters@dynamiteentertainment.com) and mark them "ok to print"!
I know the Highlander comic isn't exactly burning up the sales charts for you, but I wanted to let you know that not only have I been buying and enjoying them, your Highlander comic is the first thing to get me to go to a comic store in nearly a decade. And on top of that, picking up your Highlander comic has led me to buy other Dynamite titles (Terminator, BSG, Army of Darkness), which I never would have gotten had I not picked up Highlander.
So, thanks for the Highlander comics. They're the first decent stories told in that 'universe' in many, many years. I hop you keep it up.
-- Jeremy Orr
Thanks Jeremy! It's not a sales issue with any of our books, but while some titles and properties have wider audiences and some smaller, it's GREAT news that you ventured out from Highlander into other Dynamite titles! Keep reading!
DYNAMITE IN THE NEWS:
SPIDER-MAN/RED SONJA #2 (Silver Bullet Comic Books): "Spidey makes with the quips. Sonja focuses on her true enemy, and she even gets in a couple of unwitting wisecracks at Spidey's expense. I was also pleased that Sonja treated Venom like the loser that he is, and Gath killing all the redheads is a nice little glimpse at his hatred and fear of Red Sonja."
JUNGLE GIRL #1 (The Savage Critic): "JUNGLE GIRL #1: Amazingly, possibly more gratuitous inside with Andriano Batista's art than the Frank Cho covers would suggest."
JUNGLE GIRL #1 (Comic Pants): "... there is something about Jungle Girl that sets it apart from the rest, which would be the setting. I'm sure you're scratching your heads with that one but really, the Skull Island-like vibe that you get is something that has always been cool and Batista's art chops, at least with the numerous creatures and dinosaurs, is hitting the notes that you'd want hit."
MONSTER WAR (The Back Issue Bin): "This is a pretty good horror story overall, one that works well especially if you're a fan of the Top Cow characters. The "Classic Monsters" are fun to read about in their own right. I can't imagine Dynamite would have worked on this crossover if there wasn't an intention of using the Monsters elsewhere, but to the best of my knowledge, that hasn't been done yet. It wouldn't be a bad idea to set them up in some new horror tales, though, if a proper hero could be found to stand against their evil."
EVA: DAUGHTER OF THE DRAGON (The Comics Waiting Room): "...you have to be sure if it works as a comic, and it does, without a problem. Jerwa obviously has a bit of fun with the whole idea, and even though Eva is a very serious and grim character, there's still a subtly dark sense of humor running through the whole proceedings. It also looks nice; Salazar delivers some solid art that's strong on detail, and it's colored directly from his pencils."
BATTLESTAR GALACTICA: SEASON ZERO #1 (The Comics Waiting Room): "...once things get going, it's pretty decent. The real test will be issue two, as the preliminaries will have been taken care of and we'll see if the writer has built a solid enough dramatic structure to keep the reader interested."