JOE HARRIS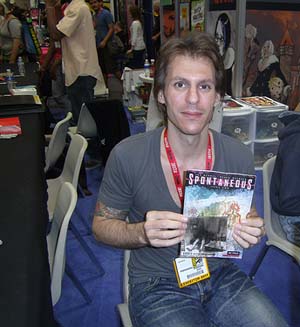 Joe Harris is the acclaimed writer of numerous comics, graphic novels and movies mixing horror with tales of super-heroes and the supernatural. As a young creator at Marvel Comics, Harris launched the cult classic Spider-Man spinoff, Slingers. Writing what Wizard Magazine described as "great teen angst," Joe would soon be writing myriad Marvel projects including Bishop: The Last X-Man and X-Men: The Search For Cyclops.
In 2003, Harris made his feature screenwriting debut with the Sony Pictures release, Darkness Falls. Conceived and co-written by Joe, the hit movie was based on Tooth Fairy, a short horror film he both wrote and directed which presented a dark twist on the children's bedtime myth. The Tripper, the politically-themed slasher film Harris co-wrote with actor David Arquette, was released by Fox in 2007 and mixed politics and horror into an outrageous tale of murder, mayhem, and the American way.
Returning to comics with projects from DC Comics, Dark Horse and HarperCollins, Joe soon set to launching creator-owned properties that brought his experiences in publishing and moviemaking together. His supernatural potboiler, Ghost Projekt was published by Oni Press. Called the "Best Miniseries" of 2010 by Wizard and lauded by Ain't It Cool News as "one of the finest" of the year, the well-received tale of ghosts and Cold War-era secrets was the first of many new, original comics properties in the pipeline including Spontaneous, a Hitchcockian thriller exploring the mysteries of spontaneous human combustion, the dark children's fantasy collaboration with Adam Pollina, Wars In Toyland and the humorous original graphic novel mixing adventure, drug humor and politics, The Hashishian.