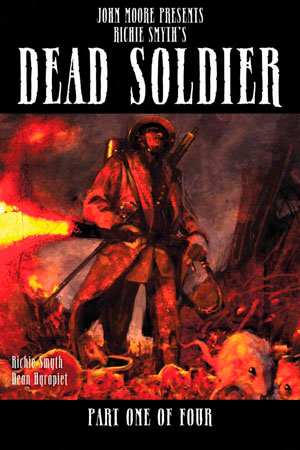 Price: $3.99
Shipping: Sold Out

SKU: C725130151872
Rating: TEEN+
Cover: Romek Delimata
Writer: John Moore & Richie Smith
Penciller/Inker: Dean Hyrapiet (Voodoo Child; Virulents) & Liquid Comics
Genre: ACTION ADVENTURE
Publication Date: SEPT 2010
Format: Comic Book
Page Count: 32 Pages
UPC: 725130151872
From acclaimed filmmakers John Moore (Max Payne, Behind Enemy Lines and The Omen) and Richie Smyth, comes the story of Colonel John Donner, aka John Doe. it's the last days of World War One - the Great War. On an obscure patch of mud, a small company of American soldiers fights to the last man against a powerful German offensive. John Doe is the only American survivor of the attack. He wanders alone for days amongst the maze of trenches and blast holes. Shellshocked, badly wounded and without food or medicine, he is lost. Through a twist of events, Donner is transformed into a creature of unthinkable power, a monster that pledges he will avenge the deaths of his fallen comrades, not only on the muddy battlefields of WWI, but across the generations to the slaughter-fields of the "War on Terror." With abnormal strength and agility he hunts his enemies. But Donner's actions have not gone unnoticed - and he will soon face an enemy from a place he could never have contemplated.